The exhibition of works of our pupils is open in Mystetskyi Arsenal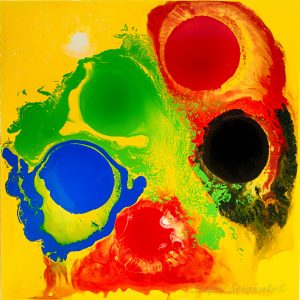 Today, on May, 27, in Mystetskyi Arsenal The Arsenal of Ideas Festival starts its work, within the frames of which there will be presented an exhibition of pictures of our pupils "White Rainbow". Within the confines of the festival there will be held art master classes including for children with autism.
We remind that last Autumn 8 pupils of our kindergarten created 18 pictures using the unique technique ArtDayCare, which had been especially elaborated for children with special needs aged from 3 till 6 years old. The main peculiarity of the technique is a simple game process of painting on a special horizontal surface KID'S CANVAS. This technique has been created in order to help parents, teachers and educators of children with special needs. Moreover, it helps to socialize children, to guide them not only to the process of learning and perception of certain skills and abilities, but to the creation of certain conditions to focus on feelings, emotions, which helps the child to come more easily into contact with other people and the environment. Also the technique ArtDayCare has a great significance for the development of fine motor skills of children`s fingers.
The technique of ARTDAYCARE has been elaborated by the chief curator of THE CHILDREN GALLERY OF UKRAINE Sergiy Andriyenko in Canada. The exhibition was presented for the first time by the THE CHILDREN GALLERY OF UKRAINE in November 2014 in The Center of the Ukrainian Culture and Art. The exhibition in "Mystetskyi Arsenal" is organized by the charitable fund "Talents of Ukraine".
Dates: May, 27 – 31, 2015
Venue: «Mystetskyi Arsenal»
Address :12, Lavrskaya srtreet
Working hours:
27.05: 15:00 – 21:00
28.05 – 31.05: 10:00 – 20:00