Remote Development Program "Our Child"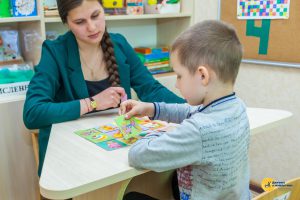 The distance development program "Our Child" is a service of teachers in our kindergarten for all who are not studying with us. Including for those who do not live in Kiev.
This is a unique service that allows you to quickly understand the possibilities and needs of your child and to develop an individual development program, according to which specialists who are attracted by parents or parents with a child on their own can work for six months.
The program is compiled on the basis of the results of testing the level of development of the child, which is carried out in the territory of the kindergarten by our teachers.
The program "Our Child" contains detailed instructions for teachers and parents and makes it possible to conduct the most effective work in the homework mode.
The service is very convenient for those parents who want to give their child the maximum, but for various reasons they can't attend a specialized kindergarten every day.
Work algorithm:
Initial consultation
Child history collection
Pedagogical diagnosis of the child. The consultation is working: psychologist, speech therapist, physical rehabilitologist, defectologist.
Developing your child's individual development program for 6 months
Issuance of the Program and all necessary tools: approaches, techniques, programs. A resume with work priorities for 6 months, answers to questions from parents.
After the end of the 6-month program "Our Child", the family has the opportunity to come for the new Program for the next 6-month period, thus providing high-quality remote support for the development and education of the child.
To make an appointment for consultation on the "Our Child" program for your child, please contact the director of the garden Natalya Vitalyevna Struchek 050 352 90 97 or write to struchek@cwf.com.ua