Tomatis
Tomatis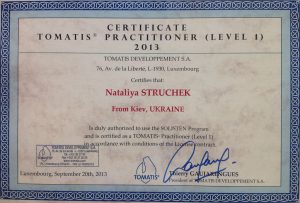 We invite everyone to use the service for working with a child according to the TOMATIS method.
If your child has learning disabilities and speech disorders, problems of concentration, affective and emotional disorders, communicative disorders, problems of psychomotor development, the TOMATIS method can help you.
The principle of operation of the TOMATIS method (www.tomatis.com) is sensory sound stimulation. Sound is transmitted in two ways: through bone conduction and through air conduction, in which sound vibrations are transmitted through the outer ear. The effect of the TOMATIS method is based on the plasticity of the nerve chains involved in decoding and analyzing sound signals, as well as the chains responsible for the ability to move, maintain balance and coordination. Thanks to this, the method can help children in the development of compensatory strategies to overcome learning problems and speech disorders. The TOMATIS method helps a person learn to control these problems.
The service is provided by the director of the garden Natalia Vitalievna Struchek, who is a certified First Level Specialist of TOMATIS DEVELOPPEMENT S.A. The technique is practiced both with pupils of the private kindergarten "Dytina z maybutnіm", and with everyone.