Private full day kindergarten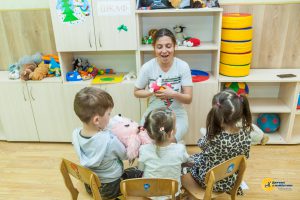 Private kindergarten "Ditina z Maybutnim" is an exclusive correctional institution for children with delayed speech and psycho-speech development, early childhood autism (RDA), autistic personality traits, hyperactivity (ADHD), alalia and other mental disorders. This is a well-thought-out system of training and education, taking into account the individual characteristics and level of development of each child.
The garden has been operating since 2010. Our team has already released more than 230 children with mental features.
We work on weekdays from 8.00 to 18.00
We accept children from 1 to 6 years
4 groups work. 8 to 10 children each. 50 adults work with children and ensure their comfortable stay
6 lessons every day
Our individual and group classes include work:
with a pathologist
with a psychologist
with a speech therapist
social Psychology
adaptive physical education
art therapy
game therapy
sand therapy
canistherapy
massage
rhythm
music therapy
Separate opportunity for Tomatis lessons
In our kindergarten we follow a gluten-free and lactose-free diet.
We offer each child:
personality-oriented individual development program
balanced number of individual, subgroup and group classes
behavior correction program
self-service skills development
academic skills development
socialization development
wellness massage
diet food
An individual development program is developed for each of our pupils, according to which there is an individual and group work with the child.
The territory of the kindergarten is closed. Around the perimeter is a blank fence. Security - around the clock.
A system of on-line access for parents to video cameras of each class where classes are held is working. Thus, parents can observe the work with their child, see his achievements and difficulties.
Once a year, all pupils of our kindergarten undergo a preventive medical examination.
More information for parents
We accept children abandoned by others. We know how to create and implement your child's correction system. We work for the result.
To register for a consultation on staying in the kindergarten, contact the director of the garden Natalya Vitalyevna Struchek 050 352 90 97 or write to struchek@cwf.com.ua
Download kindergarten booklet
Distance Program_NashaDytyna_print